Land O' Lake's Cheer Team Mission Statement: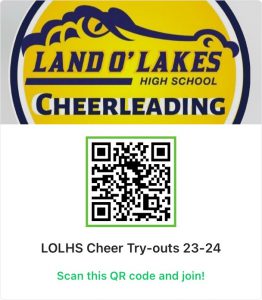 Our mission is to uphold the pride and tradition of the Land O' Lakes Gators by unifying the student body, alumni, and fans. We will support as many athletic events as possible and promote a positive game-day atmosphere for Land O' Lakes High School and its athletes.
Teams:
Land O' Lakes Cheerleading is a program made up of multiple teams. For the 2023-2024 school year, we will have two teams that will support JV and Varsity sports. We will compete with our Varsity team in two divisions: Varsity Game Day, Varsity Traditional Competitive.
                      Tryouts for the 2023-2024 Season:
Please Scan QR Code above for Info on Tryouts
What is evaluated at tryouts?
Girls will be asked to perform a cheer and dance (posted ahead of time), jumps, stunting, and tumbling abilities
Boys will be asked to show their stunting and tumbling abilities.
Questions? Please email Coach Greenhow at mgreenho@pasco.k12.fl.us