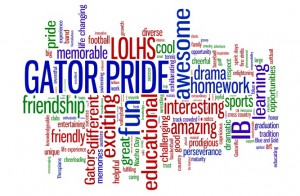 Pasco County Schools Policy on Appropriate Dress and Appearance
Student Dress Code Policy Form
Please assist us by making sure that your student complies with the Code of Student Conduct and the Dress Code.  A student in violation of the dress code is required to change into appropriate clothing before returning to class.  Over time, failure to comply with the Dress Code will result in a discipline referral, with repeat violations being assigned progressive discipline (i.e., assignment of work detail, loss of privileges, detention, parking privilege revoked, in-school suspension, or out-of-school suspension).  Also, note that continued violations will result in a suspension for defiance of authority.
The principal, or designee, shall determine the appropriateness of dress and appearance in accordance with the guidelines distributed by the school. The principal, or designee, will make the decision if a student's appearance meets school and community standards. The principal's decision on the appropriateness of dress is final.
In order to promote a positive learning environment, our school is committed to enforcing the Dress Code outlined in the district's Code of Student Conduct.  This letter is to inform you that your student was in violation for not meeting one or more of the following requirements:
Students shall wear modest clothing of such style and design as shall be consistent with community standards as determined by the school principal or designee. Refer to specific guidelines distributed by the school. Sexually implicit or explicit clothing, bikini and tank tops, and spandex clothing (kinds of clothing usually worn at beaches and while engaging in recreation activities), are not appropriate wearing apparel for school or school functions.
Students may not wear leggings, yoga pants, tights or similar clothing unless they are covered by a shirt or skirt that is no more than 4" above the knee.
Students may wear shorts and skirts as long as they are no more than 4" above the knee.
Blouses, shirts, and sweaters cannot dip below a line formed between the right and left armpit. Muscle shirts and tank tops are not permitted. Spaghetti straps and strapless tops are not acceptable. Tops must be long enough to clearly overlap the belt line or stay tucked in during the course of normal movement throughout the school day.
Students shall keep their clothes, bodies, and hair clean and well groomed.
Students shall not wear hats or head coverings on the school campus during the regular school day unless previously approved for medical or religious reasons or special school activities as determined by the principal or designee.
Students shall wear shoes for foot protection and hygienic reasons while on school grounds or on school transportation. Slippers are not acceptable.
Decorations, symbols, mottos, or designs imprinted or attached to the body, clothing, accessories or student vehicle which contain profanity in any form, violent images, are considered vulgar, offensive to good taste or the maintenance of decorum, or which contain sexually suggestive words, phrases or images, advertise tobacco, alcohol, drugs, or which identify them as members of secret antisocial groups or gangs, or which cause an inherent risk of substantial disruption to the educational program, shall not be worn to school or school functions. Offensive designs imprinted on the body must be covered.
Jewelry shall be worn in a way that does not present a safety or health hazard or cause a major disruption to the educational process.
Wallet chains or dog collars shall not be permitted.
While on any District School Board of Pasco County schools or campus, at any school function or on any school sponsored transportation, students are prohibited from wearing clothing that exposes underwear or body parts in an indecent or vulgar manner or that disrupts the orderly learning environment. Students' clothing shall be worn appropriately with no abdomen skin or underwear exposed.
(Rev. Aug 2017)