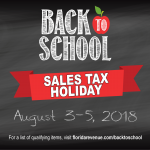 In keeping with its annual practice, the State of Florida has set the Back to School Tax Free Shopping Weekend for August 3-5, 2018.
Please make sure that any clothing or other items meet our school's dress code. You may wish to bring a copy of the DressCode with you when you shop. Click the link to download.
Click for the information and list of items that fall under the state's Tax Free Guidelines.
Find all resources from the Florida Department of Revenue at http://floridarevenue.com/backtoschool/Pages/default.aspx