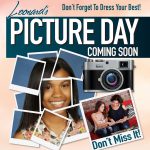 Underclass and staff photos is Wed., Oct. 18.
 Seniors are not taking photos that day for an id badge. They will use their Senior formal pose for the name badges.
SENIOR PICTURES are tomorrow: THURSDAY, SEPTEMBER 21
 There is a $15 sitting fee cash or check made out to Leonard's. This consists of a formal picture and a personality pose. See Mrs. LaBarbara to sign up for a time slot for Thursday. If you cannot make that day, or would like to take additional pictures with outfit changes, you will need to go to the Leonard's studio in Tampa before October.