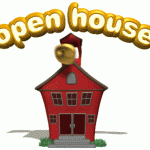 Land O' Lakes High School is hosting its Open House for families on Tuesday, August 29, 2017 from 6pm to 8pm. There will be an earlier session starting at 5:30pm for families new to our school and interested in learning about our Gator Expectations and staying on-track for graduation.
Open House will provide you important information about our school, academies and programs, clubs and teams, and a greeting from Mr. Kurt Browning, the Superintendent of Pasco County Schools.
During the evening, families will be able to follow their student's daily schedule and visit with teachers in their classrooms. In order to know your student's schedule and room numbers, we encourage parents and guardians to set up their myStudent online account if not already done so. This gives families access to the student's schedule, fees, assignments and grades, transportation and a range of other materials. Use the link above to go to myStudent.  
We look forward to seeing all of our students and families at Open House on Tuesday, August 29th. Thank you.