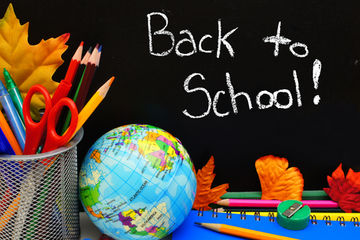 Land O' Lakes High School is excited to welcome our students back for the 2017-2018 school year. Mr. Mellin and the rest of the administrative team would like to share some important information with our families so our year can start off right.
Getting Ready in the Morning: Set alarm clocks so the household can address all that needs to be done with enough time to arrive at the student bus stop five minutes before the bus is scheduled to arrive. Please use the stop that appears on the student schedule you received on orientation day or available on your myStudent account. Students will be permitted on the bus Monday morning. If there is missing bus information, we will work with students during the school day. As well, there is a Transportation helpline. Please go to the school or district webpage and look for the banner about Transportation.
Dress Code: Students must dress appropriately in order to be in attendance at school. The Dress Code is available at here. In general, all head coverings are prohibited unless for religious or properly documented medical purposes. Leave hats and other coverings at home. They may not be worn or carried by hand. Hoods may not be worn at school. Shirts and tops must cover the torso and sleeves must cup over the shoulder. No tank tops, muscle shirts, tube tops, thin straps, or bare midriff permitted. Pants should fit modestly and not be so tight as to restrict proper movement. Pants must remain secure at the waist. Shorts must not be shorter than 4 inches above the knee. Nothing sheer or see-through is permitted. Wear proper footwear. Please review the entire dress code. There are consequences for those not dressed appropriately for school.
Arriving At School: When students arrive at school Monday, they must look for the signs near the front entrance and outside the Student Services office. Many schedules have changed over the past few days. These signs will tell students what room to go to for first period. Students will receive a purple colored schedule in 1st period and that is the one they must follow. Keep the other paper as a receipt for any fees already paid.
Forms, Applications, and Emergency Cards: Your student will be given several papers during first period Monday. Please ask to see these – they include lunch forms, insurance applications, and a Healthy Students sheet. Of great importance is the yellow Emergency Card that must be completed fully and returned to school Tuesday.
Parent Vehicles  – Afternoon Pickup at School: Our school dismisses at 1:55pm. Students move to their buses and cars. Many await parent pick up. The speed limit on our campus is 15 miles per hour. Please drive slowly and stay alert for other vehicles, buses, and pedestrians. Drivers must always follow the instructions of school staff and law enforcement. Buses take priority over other vehicles. Parents coming to campus for pick up are required to wait patiently in the line up along the right side of the front circle and up Gator Lane. Do not pull around or cut in front of other waiting vehicles. Do not drive past everyone waiting to get to the front of the line. Do not block driveways or bus access areas. Move forward as the line moves. And it moves consistently once dismissal occurs. Be patient and observe all safety rules. We will keep a gap at the entrance to the circle to allow buses to get through.
School Advisory Council: We are still accepting self-nominations for 2-year membership on the SAC. As well, if you are a business partner, we invite you to self-nominate to be a SAC member. Please email Mrs. Beerman if interested at tbeerman@pasco.k12.fl.us .
Thank you for all you do to help us make learning and safety the priorities at Land O' Lakes High School.